Gardening Services
Nu Turf of Pompano Beach, Inc. has a wide range of services for all your gardening needs. We operate a 5 acre nursery in Pompano Beach Florida where we carry thousands of trees, plants and perennials in hundreds of varieties. We provide a complete range of services to both residential and commercial customers. We have a full-service garden center for all your gardening needs.
Service Highlights Include:
Full-Service 5 Acre Nursery
Diagnose sod or plant problems due to insects, watering habits, etc.
Identify plants, trees, insects, etc.
If we do not have what you are looking for, we will do our best to find it.
Complete full-service garden center.
We carry organic gardening supplies.
We offer anything and everything for the do-it-yourself landscaper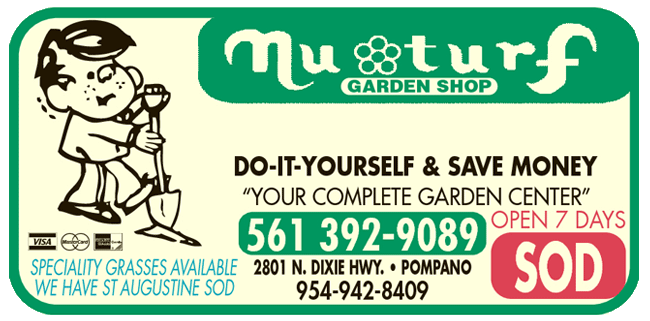 Don't see what you're looking for? If it grows in Florida, we will do our best to find it for you!